World Naked Bike Ride – Southampton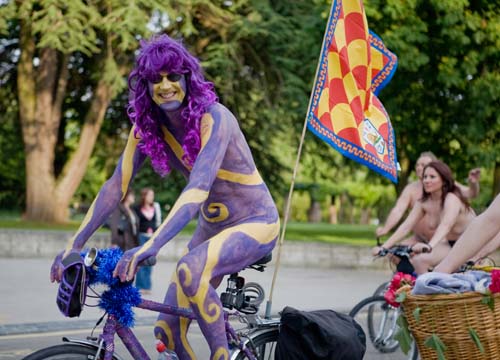 Title: World Naked Bike Ride – Southampton
Location: Southampton Common – East – Near Highfield Road
Link out: Click here
Start Time: 18:00
Date: 2011-06-10
End Time: 20:00
Folks, in case you needed reminding this year's Southampton Naked Bike Ride takes place on Friday June 10th. That's less than 1 week from today! As ever, the meeting place will be the east side of Southampton Common, next to Highfield Road. Meeting time 6pm, departure 6.30pm, ride length 6 miles which – at our leisurely pace – will take about 1 hour. Bring picnic snacks and drinks to relax on the Common while it's still warm, then join us for more celebrations at The Hobbit into the evening.
For those who are new to the ride…
This is a peaceful, imaginative and fun protest against oil dependency and car culture. A celebration of the bicycle and also a celebration of the power and individuality of the human body. A symbol of the vulnerability of the cyclist in traffic. The world's biggest naked protest: 50+ cities and thousands of riders participate worldwide, including more than 3000 in the UK in 2010, of which well over 100 rode in Southampton!
Dress code is 'bare as you dare'. That means nudity is not compulsory, but many go completely naked. Go as bare as you feel comfortable doing. Body paint, glamorous disguise and colourful bike decoration are all in the spirit and make this a truly spectacular and fun event!
Will I get arrested? Very unlikely. Simple nudity is not a crime and no-one has been arrested at any UK ride over seven previous years. Southampton police have been informed and they have no issue whatsoever. However, indecent or lewd behaviour will not be tolerated so keep it clean.
Full details of the Southampton ride here: http://www.worldnakedbikeride.org/uk/southampton/